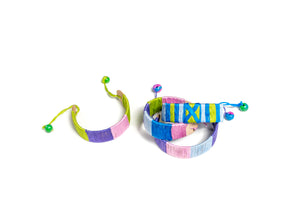 Make DIY Embroidery Floss Bracelets easy following the video tutorial. It is an ideal kids craft activity to entertain the little ones wrapping and glue thread around. 
Apart for being a fun craft, it can be a DIY gift to give to mum or to the children friends. This product is a learning toy that helps to improve the psychomotor skills, and sharing.
★ WE ONLY SHIP WITHIN THAILAND
INSIDE THIS KIT

- 2 TONGUE DEPRESOR
- EMBROIDERY THREAD
- GLUE
- CLAY BEADS
- 1 COCKTAIL STICK
STEPS TO FOLLOW
To see the instructions of how to do this craft watch the video tutorial.